Bespoke
Is a term often used by London's Saville Row tailors to describe one-of-a-kind clothing made uniquely for its wearer. Literally it means "spoken for," or "in your name." In these modern times most buying experiences don't offer much choice, and quite often even"customized" has come to mean you get to choose some details. The bespoke experience starts from nothing more than your needs and preferences.
Design Process
Once we have met to discuss your needs and preferences, and how the piece will function in your space. I will recommend a range of design solutions and we will discuss approximate budgets. If we are both comfortable with the project, I will prepare several rough sketches to ensure we are thinking about your piece the same way.

After several sketches and design discussions about your project, I will produce a more thoroughly representative drawing so that we both have good sense of what the finished piece will look like. While no drawing can completely capture the way the finished piece will feel in its home – every tree and every board are unique – this is a good chance for you to weigh in on design details. Once the drawing is accepted the project moves from design to production, final details such as finish are selected, and ultimately a piece of heirloom furniture is made expressly for you.
Material Selection
An important part of the design process is choosing the right materials for you project. Perhaps you already have beautiful woodwork in your home or treasured pieces of furniture that you would like to complement. Or maybe you simply love the look of deeply burnished American cherry.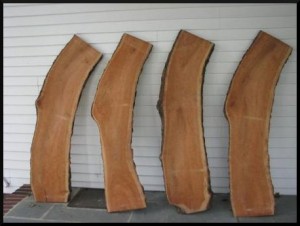 Local timber sawyers often save trees – like this local cherry brought down by a storm –from the mulch chipper. Slices of the trunk called flitches are stacked in the order they were cut. The wood is then set aside to dry – sometimes for years depending on the thickness of the flitchs. Buying bundles of flitches ensure that I can achieve the best color and figure match for you project.